LIVE LIFE PAIN-FREE
Experience Therapeutic Technology Used By Professionals
From Your Own Home!

---
RELIEVE PAIN

FROM ARTHRITIS OR OTHER DISEASES & PROMOTE BLOOD CIRCULATION IN YOUR HANDS
As we get older, the muscles and joints in our hands start to get weaker and can develop inflammation. Hand pain can have a significant impact on everyday life. But why should we allow ourselves to deal with this pain on a daily basis and compromise our health and well-being?
The Electric Hand Massager is designed to revolutionize your health & well-being. Air compression and heat therapy together can help stimulate the muscles, relieve pain, ease soreness, and allow more blood, oxygen, and nutrients to be delivered to the injured tissues.
Introducing My Hand Massager, the perfect At-Home solution for:
✔ Poor Circulation & Swelling
Choose between different modes and heat intensities to allow for a perfectly individualized application. Depending ones preference you can alter the intensity. My Hand Massager
™️, therefore, is able to handle all kinds of pains and symptoms.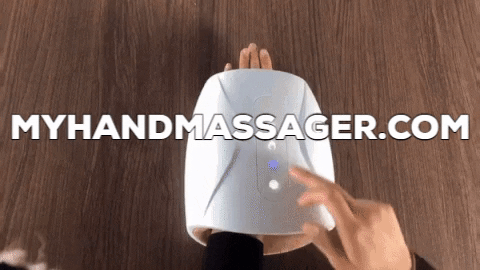 Professional Treatment Made 

Affordable
My Hand Massager™️ - Our Hand Therapy Massager uses the latest therapeutic 4D Air Compression, Heat Therapy and Infrared Massaging.
The technology has been around for decades, and is commonly used by professionals and doctors as an in-office treatment to help reduce inflammation and minimize the symptoms of arthritis, joint pain, carpal tunnel syndrome and much more.
However, in-office treatments cost $500- $3000 per month. With My Hand Massager™️, you can experience the same benefits and more right in the comfort of your home. Developed by a group of renowned scientists and clinically proven to be effective My Hand Massager™️ revolutionizes at home paint treatment.
Gentle heat therapy - Helps promote blood circulation and ease soreness muscles, numbness, and cold fingers.
Built-in Air Pressure - Inflates and deflates, and uses 2 levels of heating & 3 levels of intensity/compression.
Compact and portable - Compression massager, ideal for hardworking hands that get tight, sore, and cramp up.
Anti-Aging Treatment - Apply hand cream or moisturizer. Put on disposable gloves. Get your younger and healthier hands back.
Comprehensive Finger-to-Wrist Hand Massage - Revitalizing air compression cells envelop the entire hand, pulsing rhythmically and applying gradual pressure, while gently stretching the palm and fingers.
HOW DOES IT WORK?
The Hand Therapy Massager is designed to free you from hand-pain once and for all. Air compression and heat therapy together can help stimulate the muscles, relieve pain, ease soreness, and allow more blood, oxygen, and nutrients to be delivered to the injured tissues.
By using the combination of air compression and heat, My Hand Massager™️ stimulates the muscles comfortably and promotes better circulation for stiff muscles and joints. 
A gradient approach is used - with 20 minutes a day for 4 weeks, My Hand Massager™️ users have reported an immense decrease in inflammation and hand pain.
FOR BEST RESULTS
Step 1. Apply hand cream or moisturizer
Step 2. Put on disposable gloves.
Step 3. Enjoy a relaxing massage.
Product information:
Intuitive display: 3 levels of compression / 2 hand-size options / 2 heating options

Size: 8.27 x 7 x 4 inches / 21x17.8x10.4cm

Weight: 2 lb. / 1 kg. 

Batteries: 1 Lithium-ion battery (included)

Power supply mode: USB charging

Rated Power: 18W
Package Includes:
1 x Hand Therapy Massager

1 x USB Charger
Note: Do not overuse, if there is any adverse reaction, it is recommended to stop using it immediately. Insufficient current, timely charging, to avoid affecting product life. Do not disassemble or repair the product yourself. Keep out of reach of children.
Maintenance and cleaning:
If the appearance of the product is dirty, clean it with a dry cloth or paper towel. Do not use detergent. Do not wash it.
I struggled with Arthritis related pains for over two decades and really tried everything out there. I was at a point in my life where I just accepted to live with the pain. My Hand Massager has brought the change I was seeking and after 3 Months I still use it every day. I'm finally able to write again which means the world...
I really LOVE My Hand Massager. After using it for 5 weeks now I can confidently say this machine works! My hands feel amazing. The numbness is gone. I struggled with a lot of swelling in my joints and this got a lot better too. Exceeded my expectations
The therapy methods used by My Hand Massager are already widely used in today's medical treatments. That's exactly these technologies are now available for at home, self-treatment will impact the effectiveness of at home therapy, and there is no doubt about it... 
Air-Compression and Heat-Therapy are the most effective treatments available against degenerative joint disease, or chronical pain...
I often recommend My Hand Massager to my own patients. When it comes to cost-effective, at-home therapy there is nothing like this device...